Published by mandy on 4/26/2007 at 00:35.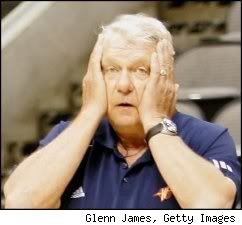 *I'm pretty sure Don Nelson drank a fifth or two of vodka in honor of Boris Yeltsin before the game/during halftime. Did you see his hair in the third quarter? Dude was a mess. I bet his breath was flammable. I can't wait until this series is over so Nelly can resume his regular playoff position - drunkenly clinging for dear life onto a guardrail at the Mavs home games as the AAC spins round and round him.
*Did anybody else see Jason Terry playing with his headband covering one eye? Must've been trying out the pirate look. Perhaps he wants to incorporate it into his
fashion line
.
[*Update:
Thanks to the always awesome AA over at Awful Announcing for pointing me to this Jason Terry pic, so that now you'll all know what the hell I'm talking about.
AA has never failed to satisfy a woman.*]
*Mavs were crap from the field, especially behind the arc. (I think they were something like 1 for 16 on 3-pointers. But I don't really know. I'm not a journalist. I don't fact check. I just make shit up.) This was kind of good though, because it made them drive and they racked up the fouls, which lead to the ejections of Baron Davis and Stephen Jackson.
*Davis is a loose cannon. Just look at his beard. The Mavs need to get him riled up again. I see another ejection in his future.
*Dirk played better, but still not like he did in last year's playoffs. I'm expecting a really huge game from him down the line.
*My man Jose Juan got his first playoff minutes. Awww....it's like watching baby's first steps. I'm gonna go write this down in my
Baby's
Barea's First Year book.
*I'm glad Avery took my advice and went big. My motto is
always go big
. It's never failed me.
Labels: mavs, nba playoffs, warriors